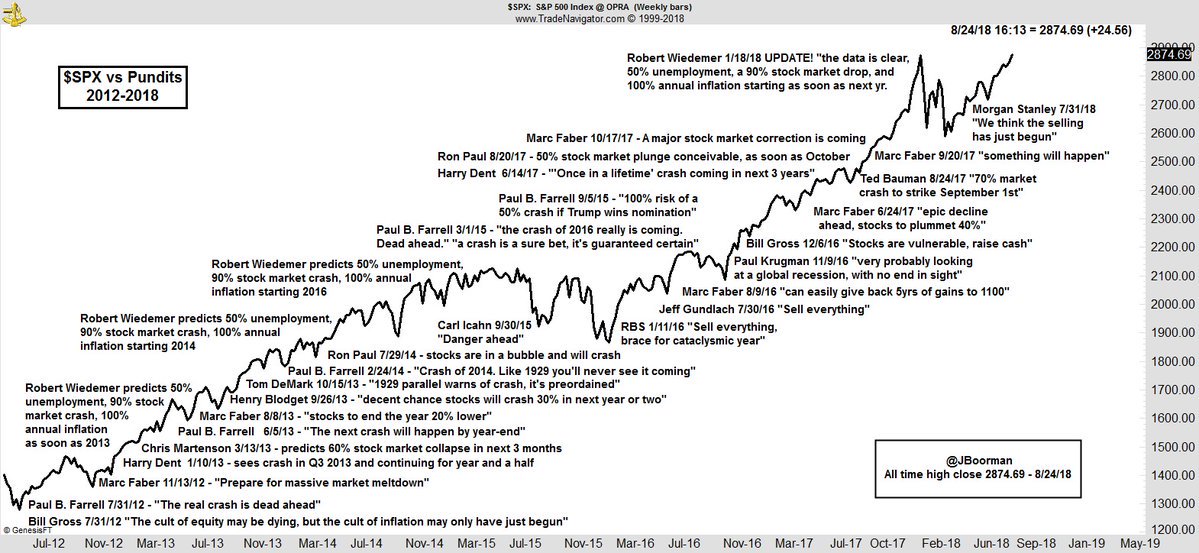 Wow, just wow! 
As you can see from the chart on the right (click for bigger view), people have been saying this rally is going to end since it started – and that was about 10 years ago at this point!  I'm included in those people as, on several occasions, including this year – I have wanted to cash out and, in fact, I did cash out my kids' college accounts into the Summer (still in cash) and our Hedge Fund is mainly in cash as well as we wait for the market correction (and buying opportunity) that never seems to come.
I was bearish in 1999 and the market went up 100% that year before it collapsed and I was bearish in 2007 and the market went up before it collapsed (about 10%) and I have been bearish most of this year – well, after we did a lot of buying during the February dip.  Even our Big Chart is still full of the old Must Hold levels that there's little chance of re-testing.  Granted they were the levels we set in 2015 for our expectations of the end of 2017 but we never changed them because we kept thinking the move 20% above our lines would correct – that was incorrect…
Being cautious hasn't stopped us from making money but we certainly could have made more money if we hadn't hedged (and yes, we just put more money into hedges yesterday).  Still, that's not the right way to play but we do need to make some realistic assumptions about where the bottom of this new range should be and it's probably not 2,200 on the S&P – which would be a 24% correction from here.  
Without getting into the whole "fair value of the S&P" which we do when we are setting our major Must Hold Levels, what has really changed since 2015?  Well mostly we have higher wages, a stronger GDP, lower unemployment and much lower taxes – mostly good things for the bottom line of S&P 500 companies.  Good but not so good they should be trading at 35x Cash Flow…

http://welcome.philstockworld.com/wp-content/uploads/2015/09/PSW-Adooma-logo.png
0
0
Phil
http://welcome.philstockworld.com/wp-content/uploads/2015/09/PSW-Adooma-logo.png
Phil
2018-08-28 12:31:52
2018-08-28 12:31:52
Toppy Tuesday – S&P 2,900 so it's 3,000 or Bust!