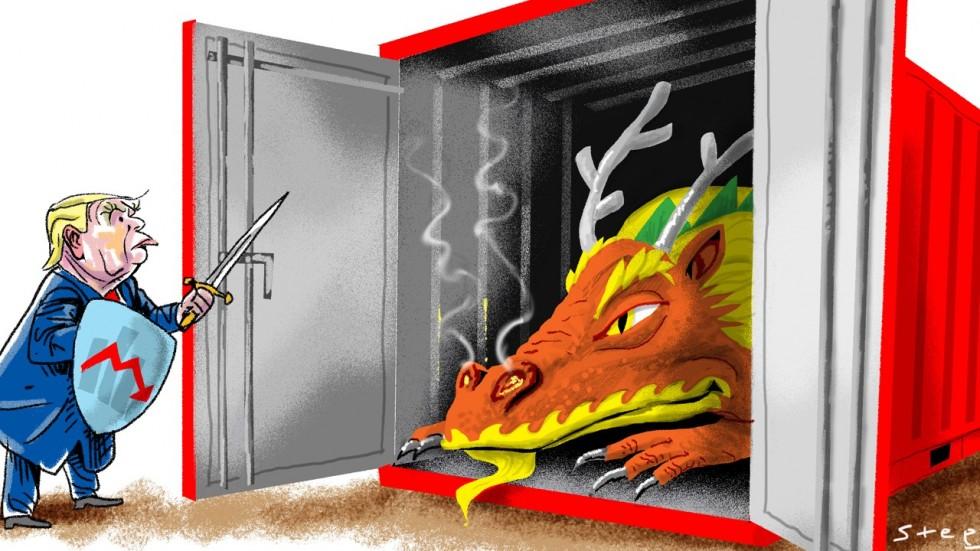 "U.S. Seizes on Chinese Economic Vulnerability in Trade Talks."
That's the headline in the Wall Street Journal this morning and, frankly, that's NOT the way to enter into a negotiation.  Of course the WSJ has drunken all of Trump's Kool-Aid and they think he's a master negotiator who gets the upper hand by bullying and insulting the people he is dealing with so that, when he makes even the smallest concession, they are thrilled to accept it.  That may work in real estate, where you can burn bridges and move on but this is Geopolitics and those are the same countries you need to do business with tomorrow – you can't just screw everyone over without repercussions.  
As the "failing" NY Times (BOO, fake news, BOO!!!) noted yesterday, Chinese state media has been putting out videos depicting Trump as a bumbling bufoon of little consequence, releasing one video thanking President Trump for helping make China stronger. It shows him in unflattering poses, his brow furrowed and his mouth agape. Its sarcastic title: "Thanks Mr. Trump, you are GREAT!"  "They sense his (TRUMP's) increasing domestic weakness and see a chance to pile pressure on," said Kerry Brown, a professor of Chinese politics at King's College London.
Sadly, I had to insert "(TRUMP's)" in that quote because SOME people in this country are so brainwashed that they don't even know Trump is weak or that he's already expended all of his political capital and may be taken out of the oval office in handcuffs in the near future and they actually believe it's possible that Trump is the one negotiating from strength.  It's amazing, but it's true!  
Keep in mind, this is China's state-run TV that's mocking Trump – that is not something they are likely to do if they are about to bend over for him in trade talks this afternoon more tariffs have already been put into effect as of 12:01 this morning!  More likely, today's negotiations will go something like this SNL classic from the Obama years.
Xi Jinping has been the President of China since 2012 and before that was the Governor of Fujan Province (1999) and Zhejang Province (2002) before…

http://welcome.philstockworld.com/wp-content/uploads/2015/09/PSW-Adooma-logo.png
0
0
Phil
http://welcome.philstockworld.com/wp-content/uploads/2015/09/PSW-Adooma-logo.png
Phil
2018-08-23 12:32:37
2018-08-23 12:32:37
Trade War Thursday – US and China Sitting Down Gives Markets Hope