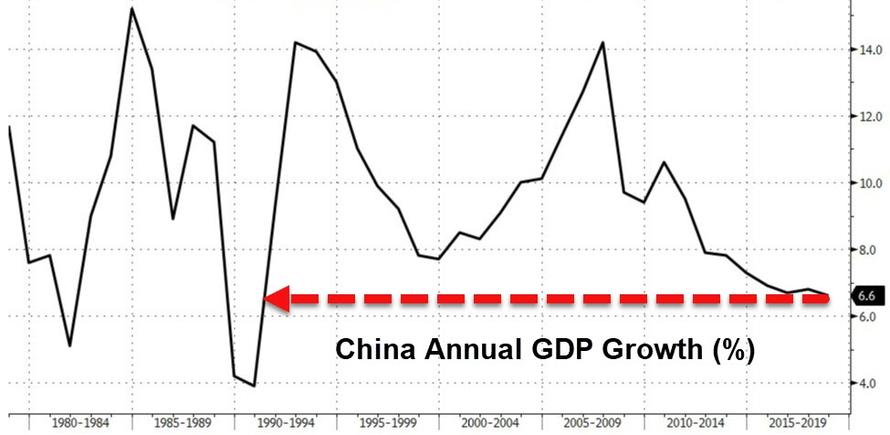 Da-vos, Da-ay-ay-vos.
So the World leaders (the ones that matter) are gathered at Davos this week and, so far, they are not too optimisitc about the economy with China's economy posting the weakest growth in 28 years and the IMF taking the entire Global Growth forecast down to 3.5%, from 3.7% last quarter, knocking 0.3% off Europe and 0.6% off Germany in particular – all the way down to 1.3% for Europe's largest economy.    
According to Price-Waterhouse, the number of US CEOs feeling optimistic about the economy also fell off a cliff – from 63% last year to a current 37%, barely over 1/3.  "It is important to take stock of the many rising risks," said Gita Gopinath, the IMF's new chief economist. "Given this backdrop, policymakers need to act now to reverse headwinds to growth and prepare for the next downturn."  The IMF also warned the US GDP will fall to 1.8% in 2020 as stimulus from the tax cuts fades and the economy begins to feel the pressure of higher rates – so we have that to look forward to.
Unsurprisingly, the Futures are down a bit this morning but only half a percent and that's nothing after the recent rallies.  What matters this week is whether or not we hold those 50-day moving averages as well as the Must Hold line on the Russell on our Big Chart – which really MUST hold if we are to truly reverse our market downturn.  These are just the strong bounces we expected so far – at this point, we're really not expecting much more lift from the markets without re-opening the US Government and establishing a workable trade arrangement with China which, according to recent reports – is at an impasse over Intellectual Property Issues.  
Meanwhile, Brexit continues to drag on with Theresa May barely surviving a vote of confidence and now Parliament is asking the EU to extend the March 29th deadline while they negotiate for changes in Irish border rules, which seem to be the main blockage at the moment.  Italy's economic growth forecast has been cut to just 0.6% from an October estimate of 1% and likely down to 0.9% in 2020 BUT – at…

http://welcome.philstockworld.com/wp-content/uploads/2015/09/PSW-Adooma-logo.png
0
0
Phil
http://welcome.philstockworld.com/wp-content/uploads/2015/09/PSW-Adooma-logo.png
Phil
2019-01-22 13:19:56
2019-01-22 13:19:56
Troubling Tuesday – China Slows Down While IMF Warns of Global Contagion