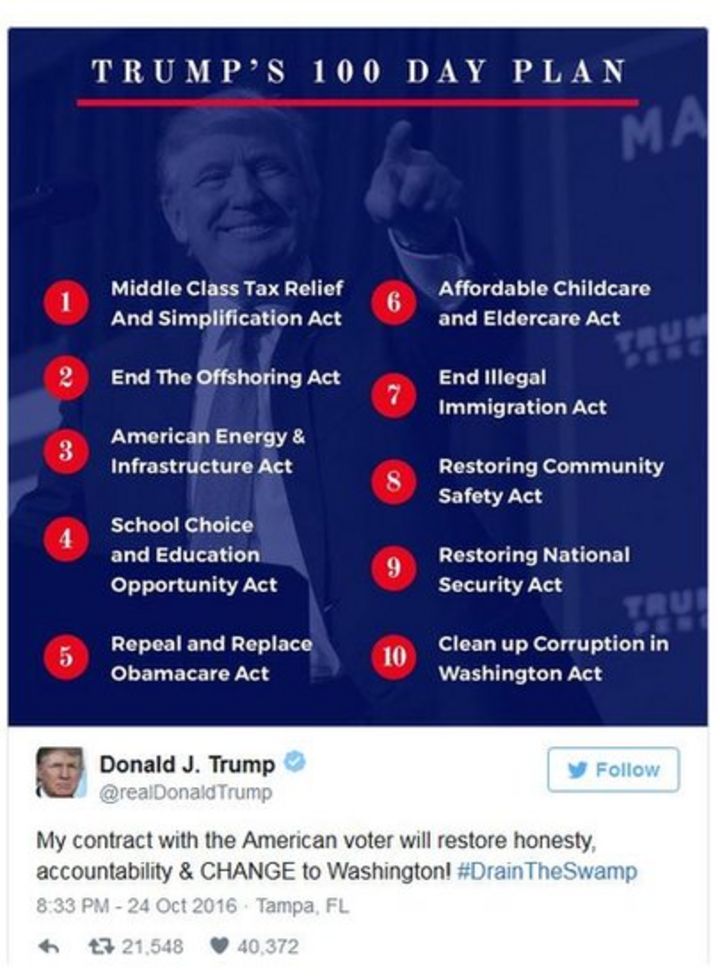 Well, here we are.
And I say that with some amount of surprise because who thought we'd survive 100 days of the Trump Presidency?  Fortunately, so far, we've only escalated tensions with North Korea, Yemen, Syria, Iraq, Iran, Somalia and the US News Media and we've only actually bombed Iraq and Syria, so we'll call that restraint, so far.  
As you can see from Trump's own agenda, we have not actually accomplished anything so far and it's kind of hard to blame the "obsructionist Democrats" when they don't have the power to obstruct anything.  The President, of course, does not let facts get in his way and he held a "victory rally" Saturday, in Harriburg, PA – essentially counter-programming against the White House Correspondent's dinner which even President Reagan phoned into from a hospital bed after he was shot.  
Speaking to the coal miners, Trump vowed to cancel the US's payments to the UNs Green Climate Fund, a financial program intended to help poorer countries mitigate the effects of climate change and his budget blueprint includes "eliminating U.S. funding related to the Green Climate Fund," but the proposal has yet to be enacted.
Trump did take credit for creating 600,000 new jobs but the 216,000 that were recorded as added in the January 6th jobs report came before he was actually President.  That made the February figure (216,000 jobs) for the Monday of January 2/3 Obama's jobs but certainly, in March, the jobs number was all Trump's doing – all 98,000 of them.  We'll see on Friday how he did in April, maybe there's 500,000 jobs coming?  
During President Trump's first 100 days in office, he did sign 28 bills into law and the Senate confirmed his nominee for Supreme Court justice.  Trump had not signed into law ANY of the 10 pieces of major legislation in his 100-day plan. The White House has also pointed to Trump's rollback of Obama-era regulations, but the OMB did a massive study that showed the benefits of these regulations outweighed the costs and the long-term damage Trump is doing by dismantling them could be immeasurable. At the same point, President…

http://welcome.philstockworld.com/wp-content/uploads/2015/09/PSW-Adooma-logo.png
0
0
Phil
http://welcome.philstockworld.com/wp-content/uploads/2015/09/PSW-Adooma-logo.png
Phil
2017-05-01 12:02:37
2017-05-01 12:02:37
Trump Error, Day 100 – What Have We Accomplished?