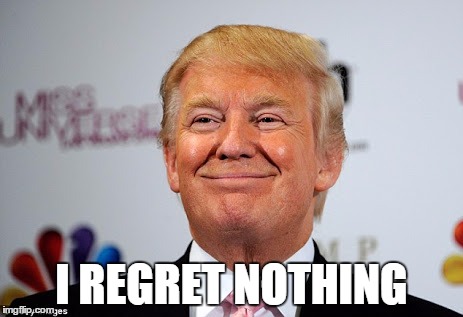 "I regret nothing" 
That's what Trump said this weekend in his Financial Times Interview and I wonder if Trump knows that's what Deputy Fuhrer Rudolf Hess said at his Nurenberg trial?  Among other non-regrets Trump discussed is his tweet about Obama wire-tapping his phone, which he claims "is being proven" and the TrumpDon'tCare Bill, which he claims is "still in negotiations."  Trump doesn't just not learn from his mistakes – he doesn't believe his mistakes actually happened.  
It's a very dangerous week in Trumpland as the President meets with President Xi of China at Mar a Lago because nothing says "man of the people" like a 126-room, 110,000 square foot house with 58 bedrooms (but only 33 bathrooms so a real bummer when everyone is getting ready at the same time!).  Leading up to the historic meeting with China, Trump decided to open with an ultimatum, saying: "If China is not going to solve North Korea, we will."    
We'll see how that plays out on the World stage, there's already a rumor that North Korea is planning to test another nuclear missile to coincide with the meeting on Thursday and Friday – so expect lots of market turmoil ahead this week as the rumor mill swings into full gear.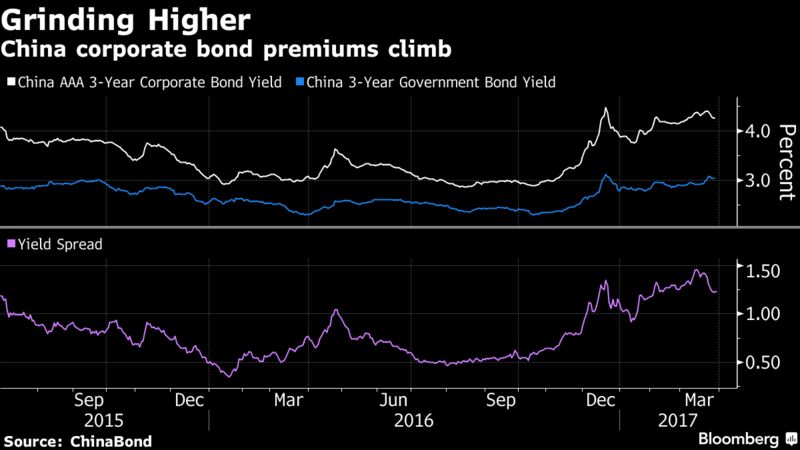 China is very likely to be see as a loser in these talks, even if they win because Team Trump will spin it their way, regardless of reality.  Meanwhile, China has bigger fish to fry as bond defaults are ticking up with 9 in the first quarter vs 29 all of last year.
As you can see from this Bloomberg Chart, rates have been rising fast as the PBOC has put the brakes on leverage and, like our Fed and most Central Banks is also seen on a rate-raising path. This has caused about $20Bn worth of bond sales to be scrapped in Q1 due to the "unfavorable" environment but, if the environment continues to be unfavorable – there will be a serious lack of funds and a lot of these companies are juggling the books to stay alive as it is:
…

http://welcome.philstockworld.com/wp-content/uploads/2015/09/PSW-Adooma-logo.png
0
0
Phil
http://welcome.philstockworld.com/wp-content/uploads/2015/09/PSW-Adooma-logo.png
Phil
2017-04-03 12:38:00
2017-04-03 12:38:00
Trump Error, Day 75 – "I Regret Nothing"