A World without Trump!
That was the subject of the opening sketch on Saturday Night Live this weekend which, like "It's a Wonderful Life" showed Donald Trump how much better off the World would have been if only he had not been President.  The chart on the right shows that small caps (IWM) have already given up ALL of the Trump error gains and the other indexes are not too far behind.  As Trump (Baldwin) says in the sketch "It's terrible, everything is falling apart" and that's certainly true of the stock market, which isn't waiting for Trump to be handcuffed and forcibly removed from the White House to roll back the rally that's put the country $2.5Tn further into debt in just two years.  
Maybe the markets are worried about the debt, maybe they are worried about President Pelosi (Pence is looking like he'll be out as well) or the looming Government Shutdown or maybe the economy isn't quite as good as Team Trump has been claiming or maybe investors are finally realizing what I've been saying all year:  That earnings have been the result of a massive tax-cut sugar-high that cannot be repeated (and shouldn't have happened in the first place) and that there is no way that most companies will live up to the valuations that have been wrongfully extrapolated based on a one-time event.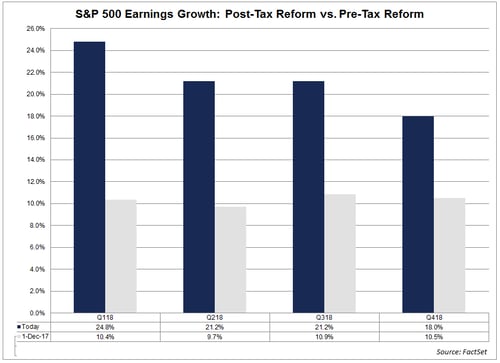 According to FactSet, almost 50% of the S&P 500s earnings growth has been from Trump Tax Breaks and no, they have not used that money to create more jobs (Trump has created far less jobs than any two Obama years) nor have they used the money to open new factories but they have bought back over $1Tn of their own stock – at record-high prices – isn't that clever?  
While $1Tn may seem like a lot of money, it's "only" about 2.5% of the US Market's $40Tn market cap though it does account for more than 1/2 of all inflows into the market in 2018 so, whenever you sell a stock, there's a 50/50 chance you are selling it back to the company!
http://welcome.philstockworld.com/wp-content/uploads/2015/09/PSW-Adooma-logo.png
0
0
Phil
http://welcome.philstockworld.com/wp-content/uploads/2015/09/PSW-Adooma-logo.png
Phil
2018-12-18 13:22:47
2018-12-18 13:22:47
Trumpless Tuesday – Small Cap Stocks Erase ALL the Gains of the Trump Error