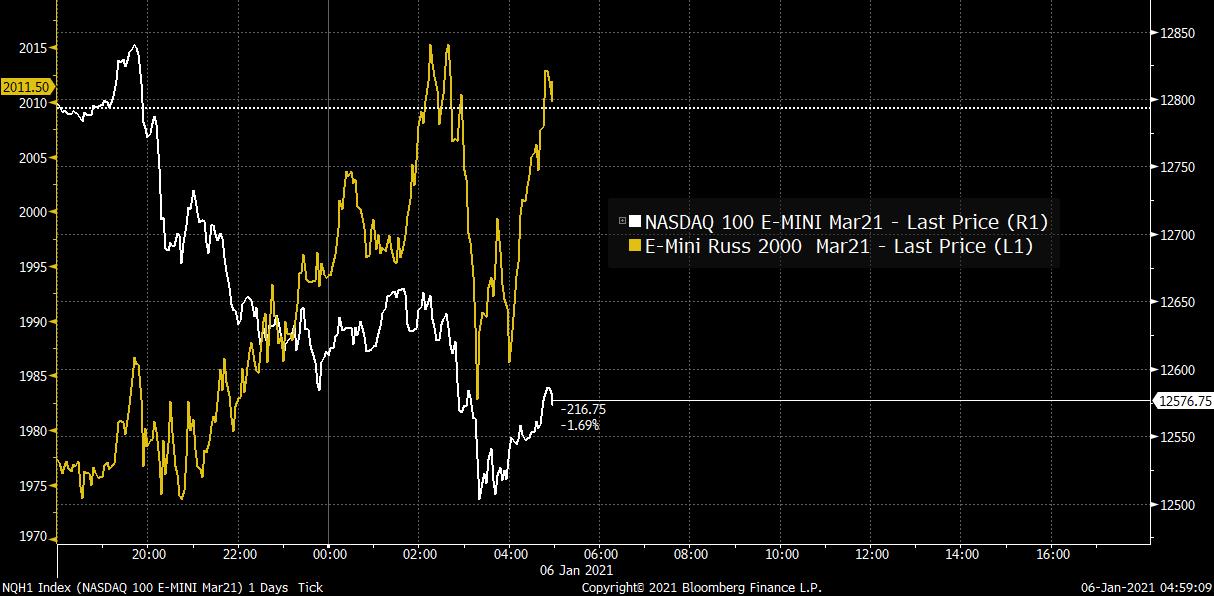 Is this Democratic Rotation?
With the Democrats looking to take both Senate seats (and control of the Senate) away from the Republicans, the small-cap Russell 2000 Index has gone crazy this morning, jumping 3% pre-market on the assumption that the first thing Joe Biden will want to do is make America great again for small businesses and the middle class.  The Nasdaq, on the other hand, has become a haven for Oligopolists and there may be some trust-busting coming their way as now Tech is becomming "too big to fail".  
"The market is pulling in implications of what a Democrat win would mean for the economic recovery," said Peter Rosenstreich, head of market strategy at Swissquote Bank. "Expected increase in fiscal stimulus and infrastructure spending would bode well for cyclical or growth stocks. Tech stocks may not benefit as much, and that may have something to do with their stretched valuations."
As we know from our fabulous 5% Rule™, 3% is too much for an index to move in a session so we should expect at least a 0.5% retrace (10 points) back from the 2,040 line on /RTY (Russell Futures) back to 2,030 and, if that fails, another 10 points to 2,020 will be the proper test so see if we're going to hold the bullish uptrend.  
Meanwhile, speaking of Oiligarchs, 53 people were arrested in Hong Kong this morning for the crime of "subverting state power" during the pro-democracy sessions last summer.  In a blatant display of Fascist refusal to recognize the Democratic process, the majority party refused to allow a newly elected official to be sworn in – promting a walk-out by the minority party in protest.  
Oh, wait a minute, that happened in Pennsylvania, not China.  China hasn't gone that far off the rails yet…  
Republican Sen. Jake Corman, the top-ranking senator, said Monday he wouldn't permit Mr. Brewster to be sworn in because of Ms. Ziccarelli's pending lawsuit in federal court. The suit alleges that
…

http://welcome.philstockworld.com/wp-content/uploads/2015/09/PSW-Adooma-logo.png
0
0
Phil
http://welcome.philstockworld.com/wp-content/uploads/2015/09/PSW-Adooma-logo.png
Phil
2021-01-06 13:17:04
2021-01-06 13:17:04
Wednesday Rebound – Russell Jumps 3% Pre-Market