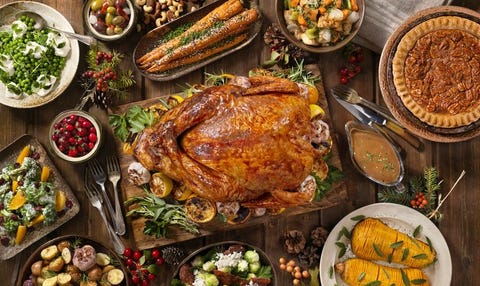 Getting ready for Thanksgiving?
If you are an American, of course you are – it's what we do here.  And, of course, after the orgy of food to be consumed tomorrow – we begin the orgy of shopping known as Black Friday – because that is, traditionally, the day that the ledgers for retailers finally gets into the black for the year.  
The Retail Sector has already made a bit of a comeback, with the Retail ETF (XRT) gaining 7 points (18%) from the August lows, outpacing the 10.5% gain on the S&P by a wide margin.  Still, overall, XRT is still about 15% below last year's highs so there's still a lot of bargains out there – including our beloved Macy's (M), who host the Thanksgiving Day Parade from their flagship store in Herald Square – which is the World's Largest Department Store at 2.5 MILLION square feet and, in downtown New York City, with rents at $776 per square foot – that's $2Bn a year if they decide to rent it out – yet you can buy the whole company for just $4.75Bn at $15.37/share.  
Macy's has been entertaining the idea of SPENDING about $1.5Bn to build 1.2M feet on top of the existing structure and use that space to generate about $1Bn a year in rental income.  They already have to maintain the building so, aside from the building costs – they wouldn't be taking on a lot of running expenses – so it's a very good idea and, when you consider that Macy's "only" drops about $1Bn a year to the bottom line (on $25Bn in sales) – it's a GREAT idea.
Unfortunately, for about 3 years, it's all costs and no income so nothing to get excited about for the short-term investor but, for a long-term accumulator, Macy's just narrowly missed being our 2020 Stock of the Year and I predict it will be our 2023 Stock of the Year as construction nears completion and income is poised to double.  I don't think Retail is dead in the same way that Radio isn't dead just because we have TV now. 
…

http://welcome.philstockworld.com/wp-content/uploads/2015/09/PSW-Adooma-logo.png
0
0
Phil
http://welcome.philstockworld.com/wp-content/uploads/2015/09/PSW-Adooma-logo.png
Phil
2019-11-27 13:30:20
2019-11-27 13:30:20
Wednesday Wipeout – Let the Slaughter of 50M Turkeys Begin!