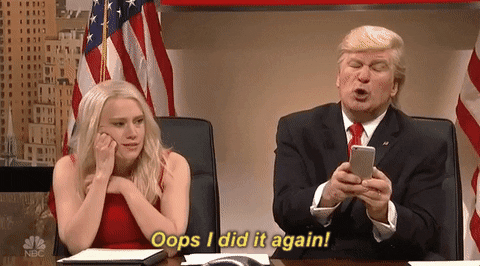 Oops, he did it again. 
For some reason, last night, Trump decided to place more tariffs on China – again – and said he was "personally holding up a trade deal with China and that he won't complete the agreement unless Beijing returns to terms negotiated earlier in the year."
"It's me right now that's holding up the deal," Trump said at the White House before he left on a trip to Iowa. "And we're going to either do a great deal with China or we're not going to do a deal at all."
I keep saying that Trump doesn't actually want a trade deal and simply wants an excuse to tax the American People (who pay for the tariffs – not China) to offset the taxes he and his rich friends are no longer paying as well as to give him Billions of Dollars to hand out to voters in the form of "tariff relief" – which is simply a way to alleviate the damage HE is causing.
Trump has already threatened to raise tariffs on China if President Xi doesn't meet with him at the G20 at the end of the month and even Trump's most loyal supporters must understand that this is not the way World leaders usually schedule appointments but the good news is Xi will be at the G20 and Trump will be at the G20, so Trump will be able to claim he "met" with Xi – regardless of what actually happens – an easy win for Trump to claim.
Meanwhile, Xi allowing Trump to be an ass and make ridiculous demands and accusations is hurting him at home and emboldening opponents, many of which would take a much harsher stance on the US than Xi, as well as protesters like in Hong Kong, where over 1M people (15% of the entire population) hit the streets.  This morning the protesters managed to delay the voting on the extradition bill, which would allow Hong Kong residents to be transported to mainland China for trials, which is like Trump passing a bill that forces you to appear before his court in Washington if he doesn't like something you…

http://welcome.philstockworld.com/wp-content/uploads/2015/09/PSW-Adooma-logo.png
0
0
Phil
http://welcome.philstockworld.com/wp-content/uploads/2015/09/PSW-Adooma-logo.png
Phil
2019-06-12 12:23:49
2019-06-12 12:23:49
What Now Wednesday? Trump Talks Tough on Trade – Tanks Markets