I love the market's attention span – or lack thereof…
No matter what happens, just a day later it's all forgotten and the dip buyers come in to buy things back to their highs.  We had this pattern back in 2006/7 and it was even a joke meme.  It's the kind of behavior that works – until it tragically does not.   
This morning, we've pretty much recovered half of yesterday's losses and we'll see where we end up but 2,712 was what we expected and we don't really care if it takes one day or two.  
Very much like in 1999 and 2006/7 investors have negative credit balances though, in 1999, it was just over -$100Bn and in 2007 it was -$75Bn and now it's -$300Bn so pretty much everything that was wrong with this strategy just prior to the other crashes is wrong with this strategy times 3!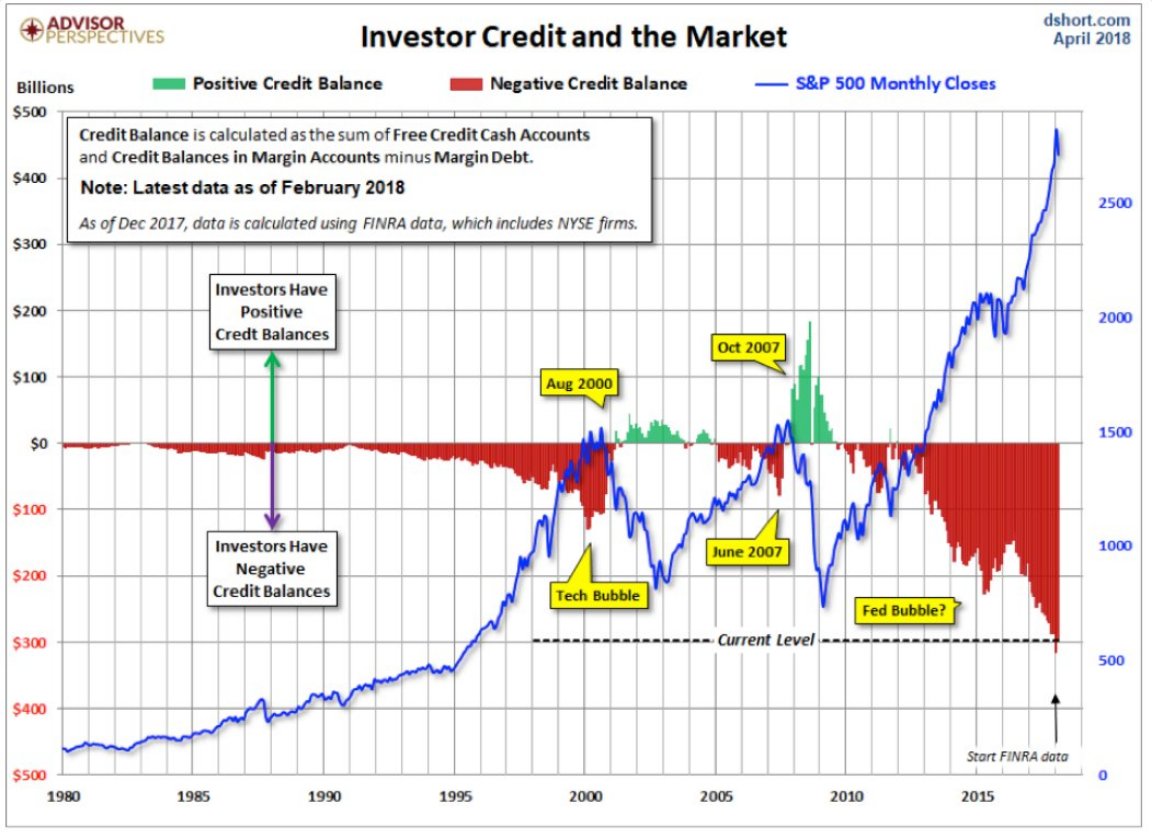 That's why, on the whole, this market is all about the Fed and even though we saw the trade war with China reignite yesterday, it's a good thing because it takes the Fed off the table as their minutes last week listed trade wars as a primary headwind that may cause them not to raise rates.  As long as rates remain ultra-low, those dip-buyers can keep on borrowing to buy those stocks and don't worry, this party will never ever stop and we'll never run out of money and the rates will never go up, right?
Well, maybe worry a little…  
Meanwhile, it only takes 10 companies to make up 20% of the S&P 500 with Apple (AAPL) coming in at 4.1% these days.  Apple has boosted the Tech Sector to the top of the S&P with 26% of the market cap, followed by Financials at 15%, Health Care at 14%, Consumer Discretionary 13% and Industrials at 10%.   The Energy Sector, which once led the index, has fallen to just 6% of the S&P's market capitalization.
IN PROGRESS
http://welcome.philstockworld.com/wp-content/uploads/2015/09/PSW-Adooma-logo.png
0
0
Phil
http://welcome.philstockworld.com/wp-content/uploads/2015/09/PSW-Adooma-logo.png
Phil
2018-05-30 12:31:31
2018-05-30 12:31:31
Which Way Wednesday – Crisis, What Crisis?