So close but yet so far.
The Futures are down yet again as we revisit yesterday's lows ahead of the open (7:30).  The bond market is still causing trouble around the World as investors are getting jittery and Draghi came out with some comments this morning about the danger of negative rates – even as German 10-year notes fell further into negative territiory.  Draghi also said he's ready to get even more doveish but he's not too worried about the economy, saying:
"During the four euro area business cycle expansions since 1970, there have been 50 soft patches – defined as a two-quarter growth slowdown – and only four recessions. In fact, the euro area faced an analogous situation in 2016, when the economy also went through a soft patch triggered by a contraction in world trade. At that time, the strength of the domestic economy was able to shield the recovery from external uncertainties."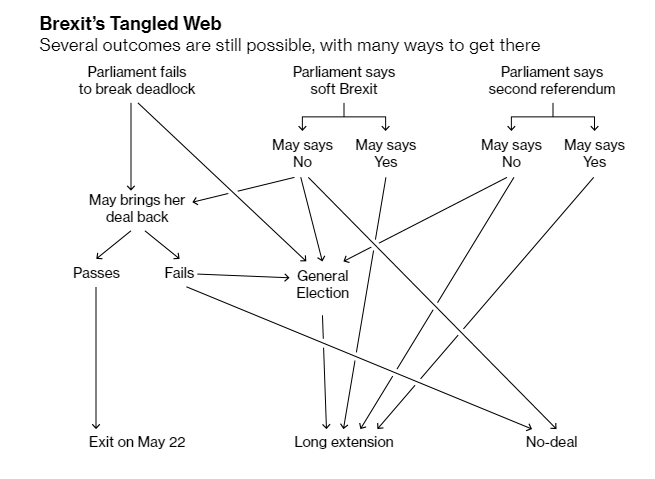 Somehow, this makes me worry more because 2019-1970 = 49 years and Draghi is saying we've had FIFTY (50) 2-quarter slowdowns in less than 50 years – and he thinks that's OK?  Sounds like a good case to get out of the EU to me!  Speaking of which – the first rat to attempt to leave the sinking EU ship is, of course, the UK and the chart on the left gives us an idea of where they stand. 
The original deadline for the decision was Friday but now it's the end of June but Parliament is voting today and notice that most paths lead towards a General Election, tossing out Theresa May and throwing the UK into turmoil yet again but all is not lost as Conservatives seem to be coming over to May's side in favor of the deal they just rejected – mostly because they just want to get this thing over with so they can go back to worrying about the names of new tugboats ("Boaty McBoatFace" won last time) without all that nasty interference from the EU (who submitted the name "Tugboat 12").  
http://welcome.philstockworld.com/wp-content/uploads/2015/09/PSW-Adooma-logo.png
0
0
Phil
http://welcome.philstockworld.com/wp-content/uploads/2015/09/PSW-Adooma-logo.png
Phil
2019-03-27 11:57:55
2019-03-27 11:57:55
Which Way Wednesday – Weak Bounce Edition