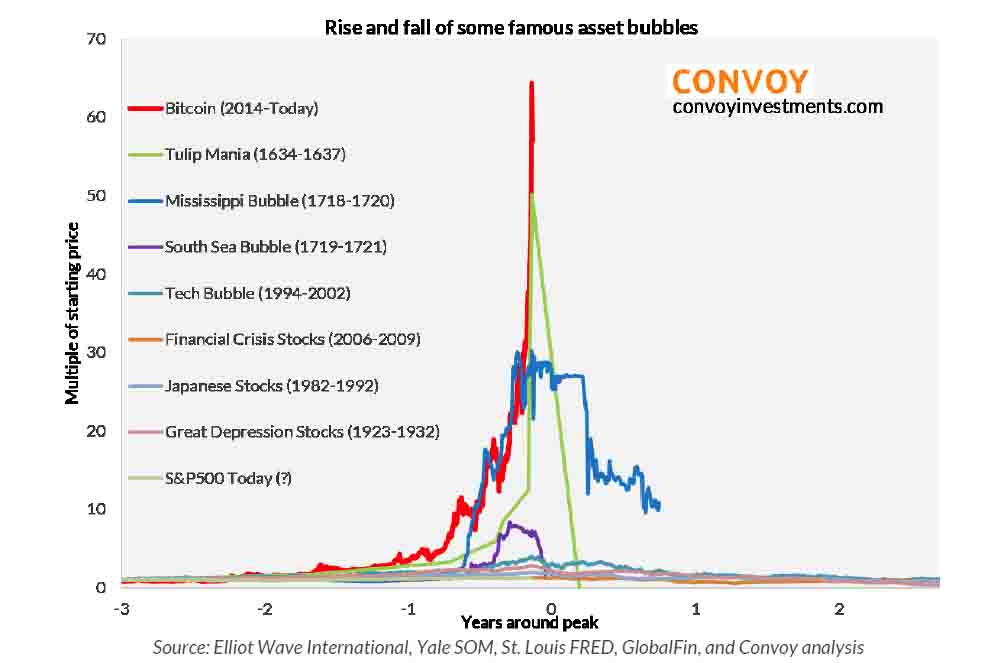 Bubbles, bubbles, everywhere.  
BitCoin has passed tulips in 1637 as the biggest bubble that ever existed.  The S&P bubble (see yesterday's post) is only up 300% in 8 years – hardly a blip on a chart where BitCoins (/XBT) is now up 6,500% in 3 years.  Amazingly, it was only two weeks ago when I said "We Will All Be Billionaires" if the markets keep growing at this pace yet the pace most certainly has continued, with our Money Talk portfolio (see yesterday) hitting +80% in yesterday's trading.  
There were no changes and no adjustments – just the same 4 positions going from +70% to +80% in two weeks while BitCoin went from $11,200 to $18,000 (+69%) and our GreenCoins went from 0.000220 to 0.000812 (+269%) before crashing back down to 0.000305 as we reminded people not to be greedy and take profits in yesterday's Live Member Chat Room.  Of course the whole thing is ridiculous, but it's a ridiculous thing we can play with – so why not?
We're still accepting GreenCoins (GRE) as payment for 2018 Annual Memberships during the month of December at 0.00044 so, if you can buy them for 0.000300, you're getting a 25% discount at the moment but I'd offer 0.000200 – as those lows are still filling if you are patient.  That gives you a 50% discount on Annual Memberships so, assuming you wanted an Annual Membership anyway, it's a free way to go through the process of playing the cryto market and, if you get lucky, GRE pops again and you can sell them for 4x, which pays for the Membership (2x) and leaves you 2x in your pocket as well!
See how easy it is to make money in America – we just make everyone rich on a weekly basis – what could possibly go wrong?  Two weeks ago, if you bought a BitCoin for $11,200 to exchange for GreenCoins (that's how small cryptos work, they trade in BitCoins) and you waited until they were back at 0.00022 on the 8th, your BitCoin was at $20,000 and you only needed 22.7M GreenCoins for a Premium…

http://welcome.philstockworld.com/wp-content/uploads/2015/09/PSW-Adooma-logo.png
0
0
Phil
http://welcome.philstockworld.com/wp-content/uploads/2015/09/PSW-Adooma-logo.png
Phil
2017-12-13 13:30:04
2017-12-13 13:30:04
Why Worry Wednesday – The Fed Will Save Us Every Time