Happy anniversary!  
It's been 5 years today since ECB President and Goldman Sachs (GS) stooge, Mario Draghi said: "The ECB is ready to do whatever it takes to preserve the euro. And believe me, it will be enough."  At the time, the EuroStoxx index was at 2,000 and now we're at 3,500, a 75% gain in 5 years and Germany's DAX is up over 100%, from 6,000 to 12,281 as of yesterday's close.  That's an average gain of 20% a year for 5 consecutive years – happy anniversary indeed!
The Euro has fallen 20% over that time period, making the gains somewhat less impressive but not too much and "only" down 20% is very surprising as the Yen is down 30% over the same period and the ECB's money supply is up 30% as well.  Actually, the EU money supply is up closer to 100% since 2008, Draghi's "whatever" was just icing on that already well-iced cake.  
None of that comes close to the flood of Dollars that have been printed since 2009 with $3Tn new Dollars in circulation which QUADRUPLED the supply of US Dollars in the World.  Keep in mind those are hard Dollars which the banks then turn around and lend out 10 times each, which is $30Tn more Dollars or 1.5 times our entire GDP so, when you hear our GDP is growing at 2%, you should say "WTF?" as our money supply has been growing at an average of 30% per year for a decade…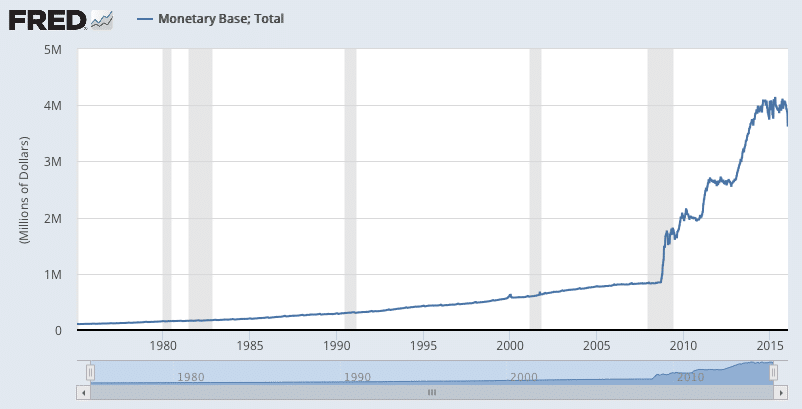 That money, in turn, gets pumped into the stock market, which also levers up the cash by about 10:1 on inflows and PRESTO! – it's a "recovery".  Steely Dan said "You Can't Buy a Thrill" but you can certainly buy an economy if you are a motivated Central Bank and no one was more motivated than the former Managing Director of Goldman Sachs, Mario Draghi, whose "former" firm is up 120% since he did "whatever it takes" for them.  
It's kind of cute the way people think there will be no consequences to 300% increases in the money supply.  The way gold, silver and uother commodities are trading – you…

http://welcome.philstockworld.com/wp-content/uploads/2015/09/PSW-Adooma-logo.png
0
0
Phil
http://welcome.philstockworld.com/wp-content/uploads/2015/09/PSW-Adooma-logo.png
Phil
2017-07-26 12:27:37
2017-07-26 12:27:37
Wishful Wednesday – Fed Edition