You really can fool some of the people all of the time!  
As wisely noted by the great George Bush II, there are some people you can count on to be fools and those people have put their money into oil over and over and over again since September on the same idiotic news that OPEC will cut production from 33Mb/d to 31.5Mb/d.  Since that time, the OPEC members have INCREASED production to over 34Mb/d and the plan is to cut back to the more sustainable 31.5Mb/d and claim victory (and we are long oil in our Options Opportunity Portfolio, expecting it to work out for them).
This morning, Iran's oil minister said Russia will be on board with a 1.4Mb cut (total) and that will bring them down to 32.5Mb/d, which is 1Mb/d HIGHER than what they said in September but what difference do facts make in post-election America?  Just last night, the American Petroleum Institute (API) reported a  weekly 2.3M barrel surplus of Oil (/CL) at Cushing, OK along with a 3.36Mb surplus in Gasoline (/RB) and a 2.24Mb surplus of Distillates – and that's after a holiday weekend, when demand was supposed to pick up.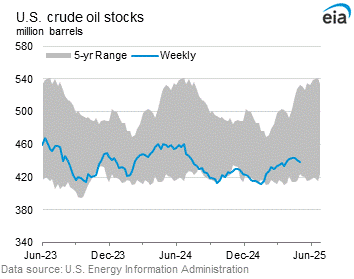 As you can see from this chart of our oil inventories, we are already nearly at full capacity, more than 10% over the top of the range that was set last year and, if EIA confirms the API build at 10:30, $50 oil will be a nice shorting spot because the US alone has a 50Mb surplus vs last year so – even if OPEC where our only supplier, it would take months just to work off our own massive surplus – and that's assuming US producers don't rush in to fill any production gap OPEC leaves on the table. 
Aside from OPEC, it's a big data day on the last day of the month and we expect all hands to be on deck to prop up the markets and close November at those all-time highs so your friendly neighborhood bankster has some nice-looking charts that they will be able to use to pressure you to make "tax-advantaged" moves…

http://welcome.philstockworld.com/wp-content/uploads/2015/09/PSW-Adooma-logo.png
0
0
Phil
http://welcome.philstockworld.com/wp-content/uploads/2015/09/PSW-Adooma-logo.png
Phil
2016-11-30 13:28:46
2016-11-30 13:28:46
WTI Wednesday – Oil Jams Back to $50 on OPEC BS